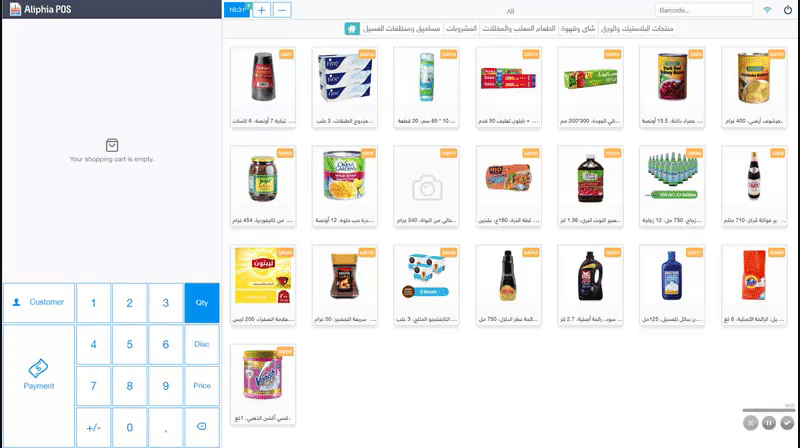 We are excited to announce Aliphia POS, a new module, fully integrated with your account that will accelerate and organize your sales.
With Aliphia POS you can use any HTML5 compatible device and turn it to a modern and mobile POS Terminal. Aliphia POS delivers in-store and online inventory synchronization and detailed reporting. All bundled in an easy-to-use and beautiful looking setup that you can take anywhere.
The POS module is user-friendly so you can get it up and running in only a few minutes. Since it's cloud-based, you just need to access your browser with an internet connection and you're good to go. It works on any desktop, laptop, tablet.
What is included in our POS module?
Sales management – Aliphia POS helps you ring up transactions faster than ever before, on any device. You can use your current equipment, as the Point of sale supports any standard barcode scanner or receipt printer.
Custom Receipts – You can add your store logo to your receipt and customize the type of information you want to show. If you have multiple storage areas, you can create a custom receipt for each location.
Inventory management - The system only updates your inventory when all the receipts are validated by your sales manager. You can also easily categorize products according to brands, types and others.
Cash Management - You can specify any payment method already used in Aliphia with your POS. Keep track of all your payments and bank movements generated per sessions.
Reporting and analytics - You have access to integrated reports that show past transactions, best-selling products, and high performing employees.
This POS module is an important step in the evolution of Aliphia. It will enable our customers to improve sales in a much faster way, eliminating human error and improving the overall customer experience.
Our team is collecting users feedbacks after trying this preview version. We are planning to release the final version of this module within a month. As we go along, we will add new options that will be based on the needs expressed by the targeted market. Users who want to try Aliphia POS can contact us by email.